This is a New Zealand based windsurfing site for windsurfers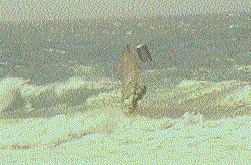 Raglan is situated 30 minutes from Hamilton on the west coast, and is well known world wide for its left hand surf break. Surfing is mainly done at Manu Bay, Whale Bay, Indicators and Brient Home.
Windsurfing at Raglan is done at the mouth of the harbour, and it has been nicked named 'suckers' by the locals. This is because on an outgoing tide the mouth is like a river and many people have been sucked out to sea! Jason Prior has compared it to the Gorge in the states and local fishermen think were insane. The bar is one of New Zealand's most dangerous, so care needs to be taken.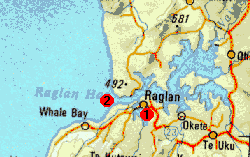 The bar and the mouth of the harbour is represented by the number 2 on the map.