This is a New Zealand based windsurfing site for windsurfers: Site last updated 27-7-98
---
RAGLAN

Created and Maintained by: James Meharry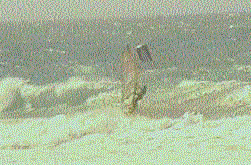 Daren Jones forward looping
This site has been visited times, since 24 April 1998.
---

Contents
---
Windsurfing at Raglan:

Raglan is situated 30 minutes from Hamilton on the west coast, and is well known world wide for its left hand surf break. Surfing is mainly done at Manu Bay, Whale Bay, Indicators and Brient Home.

Windsurfing at Raglan is done at the mouth of the harbour, and it has been nicked named 'suckers' by the locals. This is because on an outgoing tide the mouth is like a river and many people have been sucked out to sea! Jason Prior has compared it to the Gorge in the states and local fishermen think were insane. The bar is one of New Zealand's most dangerous, so care needs to be taken.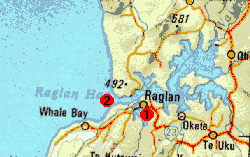 The bar and the mouth of the harbour is represented by the number 2 on the map.
Wave sailing:
Raglan works best on a SW and a NW, but sailing can still be done on a westerly.

Breaks:

Mussel rock, situated north side of the bar. Known for its reef out at sea and gnarly beach break. (SW)
Pipe line, located on the south side bar. Kick named this because it breaks and peals off in 4 foot of water. Works on a westerly swell with a south-westerly.
Brient Home, the beach that runs down towards Manu Bay. Big jumps and good onshore wave riding. (NW)
Bar, messy but good jumping.

It's recommended that you check your equipment before going out.
Slalom/ bump and jump: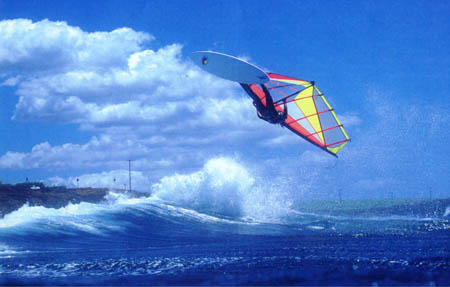 Pictures

Weather Information

Return to contents
---
Local windurfing shop:
EXPRESSIONS WINDSURFING
Contact John Holland
Team riders: James Court and James Meharry
Send submissions, comments, questions, and anything else that occurs to you to me via e-mail.

This site was Created and is Maintained by: James Meharry

The information presented on this Web page is offered to you on a non-commercial base. I do by no means want to inflict any

material or non-material damage upon any of the copyright-holders.